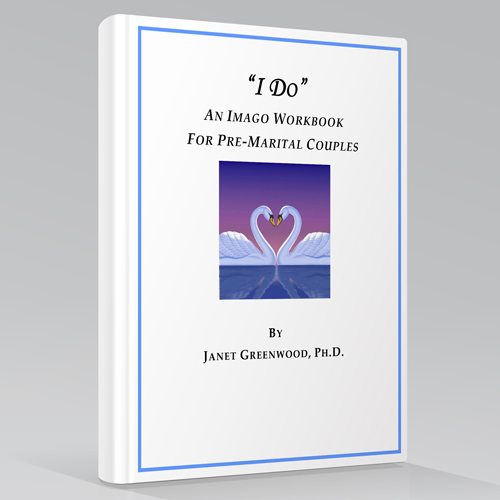 "I Do"
Pre-Marital Program Personal Coaching and Workbook
Available for Immediate Download
Only $9.95
An Imago Pre-marital Workbook For Engaged or Newlywed Couples
​This Imago pre-marital workbook written by Dr. Janet Greenwood, is full of skill building exercises designed to increase the consciousness, communication and closeness in your relationship. What separates the "I Do" Imago Pre-Marital Workbook from the usual marriage preparation class is the depth to which your relationship is explored. You will gain insight into the origin of your conflicts with each other and learn how to turn conflicts into opportunities for intimacy. You will have a chance to practice key Imago skills and learn 3 key secrets of sustaining a loving, intimate relationship with your fiancé or new spouse. The "I DO" E-Workbook is now available for immediate download for $19.95.
Because of Dr. Janet Greenwood's 25+ years of experience with thousands of couples and advanced training as a Certified Imago Relationship Therapist, she is able to offer this Pre-Marital Workbook and take her work with couples to levels that only a highly experienced clinician would be knowledgeable of and qualified to provide.
As a couple, you will be equipped with an understanding of each other's deepest needs plus a powerful communication method designed to create emotional intimacy, compassionate understanding and to stop the inevitable power struggle in your relationship.​
Additionally, you are welcome to call for an appointment to work with Dr. Greenwood or one of her clinical team members who have been trained in the "I Do" Imago Pre-Marital Program. You will complete this Imago Pre-Marital Program with a deeper understanding of your fiancé than many couples experience in a lifetime together.
The "I DO" Pre-Marital Workbook combines the best of Imago methods with Dr. Greenwood's select set of relationship skills designed to help you create a successful, committed love relationship and marriage that will endure.